At Infinispark, our purpose is to support quality education. We believe that by supporting our training organisations, we can make the futures of the learners, their families and their countries are bright.
Our purpose is to support quality education. Education is the key to the progress of humanity. We don't mean school or college curriculum but quality education that changes people's lives for the better, that improves the quality of living and encourages people to work together. Our first core value is to support quality education.
Everything we do must be towards the improved outcome for our customer. Provide excellent products, provide good service and seek satisfaction in customers' success. If they win, we win.
We can only progress if are all working together, looking out for each other and looking after each other. The human race is successful because we have learned to work together. We build on our past successes and learn from our failures. Our third core value is to serve the team, and there is no team without YOU.
The electrical trainers and managers of the electrotechnology training organisations work hard to provide quality education to the future electrical professionals, but there are many impediments in their way. One of which is access to quality training aids and resources. We know this because the person that founded Infinispark, Hus, is one of those trainers. Here are his words about the beginning.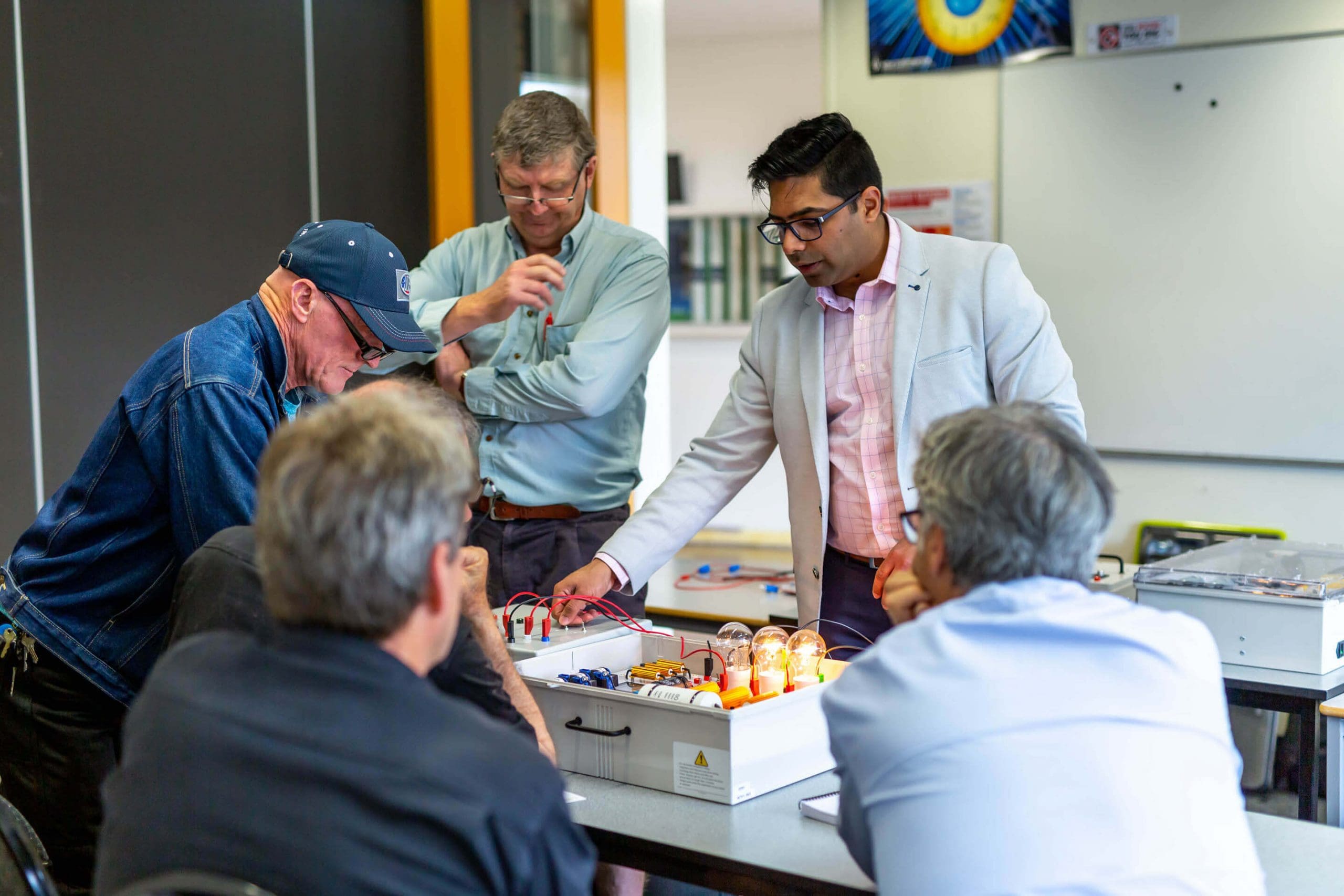 I love teaching. It's one of those professions that reward you almost instantly. To me, there is nothing as joyous and satisfactory as seeing a learner understand complex electrical concepts and succeed in their chosen field.
The electrical concepts are quite involved. I say to my learners – electricity, you cannot see it, you cannot hear it, but by the time you feel it, it may be too late. The best way to be confident and safe when working with electrical or electronics is to learn by doing. For this practical training aids are a must.
But time and time again, I have felt the lack of appropriate training aids and resources. I have heard similar stories from other trainers from many different training organisations. It not only causes frustration for trainers and managers, but the ultimate effect is on our learners. They go into the workplace without understanding the concepts thoroughly, and this is not safe.
So I set out to design quality training aids for electrotechnology that target the subjects or Units of competency (UoC). I thought these equipment don't need to be complicated; they should be so easy that the trainers should be able to use them with the least amount of support. Not only that but the training aids should cover most, if not all, aspects of the Unit of competency all in one place.
The time factor, it's massive. I literally don't have to look for anything. The parts are there, they're all in a box, they basically just grab it and do it. Yeah, it's massive time-saving, huge.
Gary Wattie
Electrotechnology Trainer at Wodonga TAFE, teaching at Department of Defence
This is a lot more professional, and it was a bit embarrassing before that, but now we've got these boxes.
Paul Kelly
Electrotechnology Trainer at Wodonga TAFE, teaching at Department of Defence
If I was to talk to a colleague who didn't have them, I'd say it's a no brainer. Without having it, they're not giving their students the best opportunity, possibly, in my belief.
Patrick Jones
Electrotechnology Trainer at ONTTC
What we have found that the pracbox has really increased the apprentice engagement, they start working through each prac and actually understand what it means and how it applies to theory and how it applies to a broader electrical area
Michael Cullen
Former Head of Department Electrotechnology and Engineering, Holmeslgen
The pracbox was easy to use and portable. Taking it around the tables in the classroom was no issue. It was great using them, I was happy to come to school to do prac.
Eliya Mackle
Electrical Apprentice
I felt organised; I felt that it was all laid out for me. It [Pracbox] was easy to set up, it was easy to pack away, and it wasn't a chore. It increased my organisation 100%
Jo O'Mahoney
Electrical Trainer, Go TAFE
It was really easy to use and all was laid out very nicely. It felt like a professional, mainstream thing that all schools use.
Matt Jakon
Electrical Apprentice
HUSNEN RUPANI
CEO and Learning And Technical Consultant
Hus is an engineer by qualification but loves training and innovating. He's passionate for the electrical industry and the education sector. His purpose is to support and promote good quality education
Anthony
Product Engineer
Anthony is an energetic and forward-thinking engineer who is passionate about product development and design. He is committed to applying his skills and experience towards solving problems and challenges. His goal is to provide and maintain quality customer experience through high-level engagement and consideration.
Perlita Bravo
Executive Assistant
Perlita is an executive assistant by professional and nature lover. She is an optimistic person and liked by her colleague for having a sense of humor. You can easily ask her for any assistance and for sure she will do her best to help you.
Attiya Noorani
Web Developer
Attiya is a Web developer and designer with over 10years experience. She is a passionate programmer worked with 20+ programming language and has successfully completed many web projects