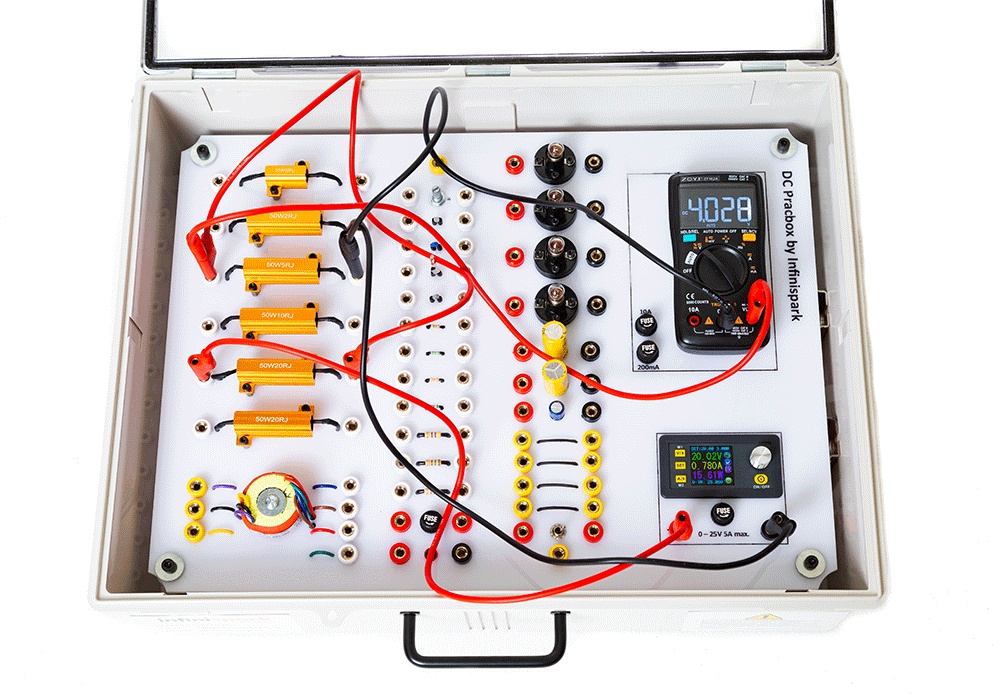 DC PRACBOX
Do you teach DC circuits? It's the most basic subject in any electrical or electronic course. DC Pracbox is a perfect fit for the TAFEs and RTOs teaching Electrotechnology or Automotive Electrical and Schools teaching electrical as part of physics or trades. With an onboard multimeter, built-in power supply and all the basic components required for DC circuits training and assessment, DC Pracbox will make you compliant, increase learner engagement and teacher productivity.
ELECTROMAG PRACBOX
If you teach Electromagnetism subject in your TAFE, RTO or School, Electromag pracbox is a must. Initially, designed for UEENEEG101A, a subject in Certificate III in Electrotechnology Electrician, it comes with versatile and ubiquitous components, it's developed into useful equipment in training and assessment applied Electromagnetism subjects. With a built-in dual power supply, various electromechanical and electromagnetic devices, the Electromag pracbox will make compliance, training and assessment easy for you.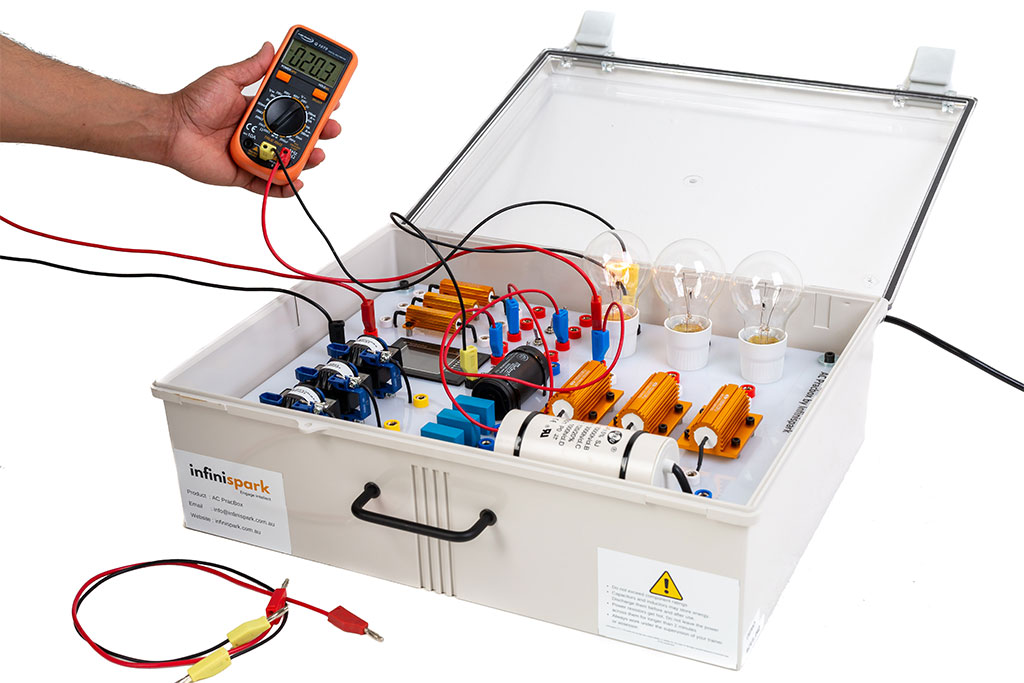 AC PRACBOX
Do you find training and assessing AC theory subjects like UEENEEG102A difficult? We have put almost all the components required for this subject in one pracbox - AC Pracbox. With real inductive, capacitive and resistive loads and a versatile meter onboard the AC Pracbox that shows Voltage, Current, Power, Power Factor, Frequency and Energy on one screen, you will find your learners engaging more and productivity increase, all while keeping you compliant to the training package.
Motor Faults Pracbox
How many equipments do you need to teach single and three-phase induction motors? And what about their fault-finding? Is it costly? Not with Motor Faults Pracbox. In this pracbox, we have put a single-phase motor, a three-phase motor, both ELV, and a powerful fault system that will replace at least 10 equipment that you need for subjects like UEENEEG006A and UEENEEG108A. Motor Faults pracbox also gamifies fault-finding that helps increase learner engagement and trainer productivity and helps you maintain compliance.
Installation Testing Faultboard
Preparing your learners for Licenced Electricians Assessments or training and assessing them in UEENEEG105A and UEENEEG108A? Installation Testing Faultboard can help with all of them. With a basic domestic electrical installation on a compact board and an integrated fault system that has 50 sets of predefined faults, the Faultboard will engage your learners in hours of testing and at the same time, the built-in gamification will keep them coming back for more. It will make them competent in testing and help you stay compliant.
PORTAPHASE
Can you do three-phase training and assessment in classroom? With Portaphase you can. Portaphase is a Single to Three-phase Extra Low Voltage (ELV) power supply that connects to a standard socket outlet and converts the signal into three-phase extra low voltage power, allowing you to conduct your training and assessment safely. Any subject that needs three-phase supply, like G102A (AC Theory), G006A (induction motors and transformers) and G108A (fault finding), Portaphase will make your training truly flexible.
Control Circuit Pracbox
If you teach UEENEEG109A or any basic motor control or ladder programming then Control Circuit Pracbox is for you. It has 3 contactors with thermal overloads and auxiliary contact, multifunction timer, various control devices like Estop, pushbuttons, sensors and limit switches, a programmable relay with a built-in power supply and an ELV three-phase motor. This will cover almost 70% of the subject, in a compact form factor.
The time factor, it's massive. I literally don't have to look for anything. The parts are there, they're all in a box, they basically just grab it and do it. Yeah, it's massive time-saving, huge.
Gary Wattie
Electrotechnology Trainer at Wodonga TAFE, teaching at Department of Defence
This is a lot more professional, and it was a bit embarrassing before that, but now we've got these boxes.
Paul Kelly
Electrotechnology Trainer at Wodonga TAFE, teaching at Department of Defence
If I was to talk to a colleague who didn't have them, I'd say it's a no brainer. Without having it, they're not giving their students the best opportunity, possibly, in my belief.
Patrick Jones
Electrotechnology Trainer at ONTTC
What we have found that the pracbox has really increased the apprentice engagement, they start working through each prac and actually understand what it means and how it applies to theory and how it applies to a broader electrical area
Michael Cullen
Former Head of Department Electrotechnology and Engineering, Holmeslgen
The pracbox was easy to use and portable. Taking it around the tables in the classroom was no issue. It was great using them, I was happy to come to school to do prac.
Eliya Mackle
Electrical Apprentice
I felt organised; I felt that it was all laid out for me. It [Pracbox] was easy to set up, it was easy to pack away, and it wasn't a chore. It increased my organisation 100%
Jo O'Mahoney
Electrical Trainer, Go TAFE
It was really easy to use and all was laid out very nicely. It felt like a professional, mainstream thing that all schools use.
Matt Jakon
Electrical Apprentice