I know that this seems like a trick question, but it's not. I have come across many questions like "will 12V relay work 6V?", "can I use a 12V relay in a 24V system?" or "will a 12V relay work with 9V?". So how much voltage does a 12V relay need to work?
Let's start by looking at a datasheet for an AD-PR40-1C-12D 12V relay, which is an open style power relay. A datasheet is a document with detailed specifications of a component.
What is a pull-in Voltage?
As you can see from the snippet of the datasheet, there is a term Pull-in voltage. Another name for this is Pick-up voltage. Pull-in voltage is the voltage required for the relay coil to energize and build enough strength the overcome the spring tension on the contact and pull it in. In simple terms, activate the relay.
All relays and contactors have some mechanical resistance, and the electromagnetic coil needs to pull against that tension. The image here shows this spring.
In the datasheet, the pull-in voltage is listed as 80% of the nominal voltage. The nominal voltage of a 12V relay is 12V, so 80% of this is 12 x 0.8 = 9.6V. So in theory, this relay should activate at 9.6V. But what about in reality? In the video below, I'm going to conduct this test using our Electromag pracbox that has this relay.
I have tabled my test results below. The exact voltage when this relay energizes at is 7.7V. So there is a difference between the theoretical value and the practical.
| Voltage (DC) | Relay activated? | % of 12V |
| --- | --- | --- |
| 7.0 | No | 58.33 |
| 7.2 | No | 60 |
| 7.4 | No | 61.67 |
| 7.6 | No | 63.33 |
| 7.8 | Yes | 65 |
| 8.0 | Yes | 66.67 |
Does this happen in all relays?
Absolutely, but the pull-in voltage may be different. Let's look at another example, SRD-05VDC-SL-C, which is a 5V relay that is very popular in devices like Arduino and Raspberry Pi. These devices are used quite extensively in Science Technology Engineering Mathematics (STEM) and Internet of Things (IoT) projects. Here is a datasheet snippet for this relay
As you can see, the pick-up voltage, what we know as the pull-in voltage is 75% of the maximum. That means the minimum voltage required to activate this relay is 5 x 0.75 = 3.75V.
Why is knowing the pull-in voltage significant?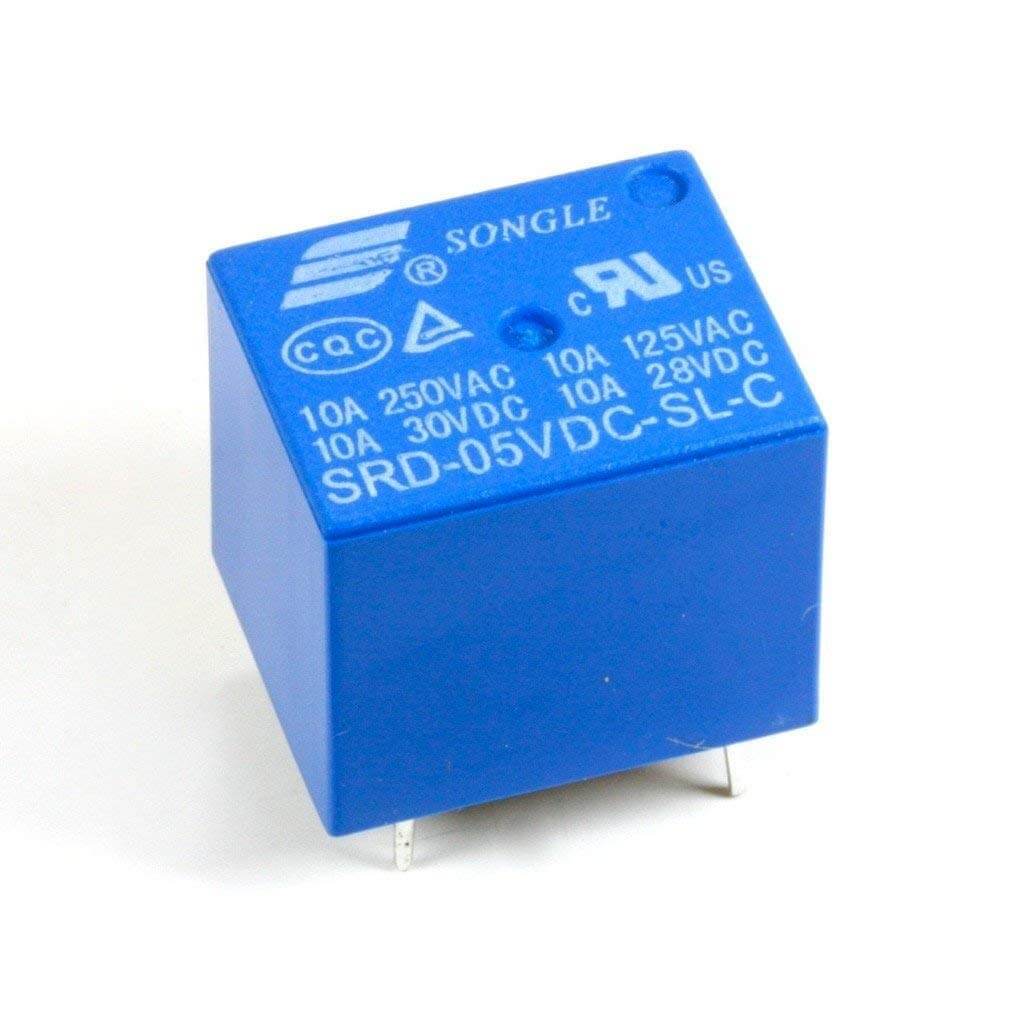 In the previous example of the SRD-05VDC-SL-C 5V relay, I mentioned that they are quite popular with STEM and IoT devices like Arduino and Raspberry Pi. The standard output of Arduino is 5V, so this relay works well with it; however, the standard output of a Raspberry Pi is 3.3V, so you will need some additional circuit to operate this 5V relay. Even the Arduino output may require an additional circuit component called the flyback diode if used with the 5V relay, but that's the topic for some other time.
Another reason why knowing pull-in voltage is essential is because of the voltage dips and rises. In all electrical systems, the voltage seldom remains the same, sometimes it dips or decreases and sometimes it rises or increases.
For your 12V relay or any relay to work, you will need to ensure the voltage is always within a range that will activate the relay when you require. Otherwise, you will have an unstable system.
Finding pull-in voltages for other relays and a contactor
To give you more accurate data, I conducted experiments with another 12V relay, a 24V relay and a 24V contactor, which are all in the Electromag pracbox. Here is the video of my experiment.
| Component | Rated voltage (DC) | Pull-in voltage (DC) | % of the rated |
| --- | --- | --- | --- |
| Interface relay | 12V | 5.9 | 49.17 |
| DPDT relay | 24V | 13 | 54.17 |
| DC Contactor | 24V | 14.4 | 60 |
As you can see from my experiments and observations, all relays and contactors require less voltage than their rated voltage to activate. A broadly accepted rule of thumb is 60% to 80% of the rated voltage but this depends on the relay's sensitivity, as evident from my tests.
So why supply more voltage than it needs?
I'm sure the question that begs to be answered in this situation is that why supply 12V to a relay that requires only 7.7V to activate? And the answer is Stability. As I mentioned earlier about all electrical systems having some degree of voltage instability, you don't want the circuit to behave erratically. Supplying 12V instead of 7.7V will ensure that the relay will activate when it's supposed to and stay activated as long as it's required.
I hope this article answered the questions like "How much voltage does a 12V relay need to work?", "will 12V relay work 6V?" or "will a 12V relay work with 9V?". Roughly 60% to 80% of the rated voltage.
The next question is when the relay will deactivate? 0V or before it reaches 0V? We will discuss this in another article.
Thanks for dropping by. If you liked the article, I would appreciate it if you left a comment. And feel free to drop a comment about your experiences with the pull-in or pick-up voltages in relays and contactors.