Have you ever audited your assessment equipment to see if they assist you in compliance? Do your current equipment cover all aspects of assessments for the Unit of Competency?
We conducted an audit of our DC pracbox to see how much does it comply with the current units of competency that they were designed for. The results were more impressive than we could've hoped for and thought it may give you an insight on this concept that we call Assessment Equipment Compliance.
Here's an overview, and a detailed mapping is shown later in the post.
How compliant is the DC Pracbox
DC Pracbox covers the following Units of Competency at the percentages shown below. So, for example, it covers  85% of the UEENEEE104A, which is also called E104A.
Compliance mapping for DC Pracbox
To prove whether your assessments cover all the aspects of a Unit of Competency, most training organisations use a competency mapping where, on one side there are knowledge, skills or performance evidence points and on the other side there are specific parts of assessments that satisfy those points. Although, this document is not a requirement during a compliance audit, it definitely saves a lot of time by giving an overview of how well you assess someone.
We thought, could it be possible to do a similar audit of an equipment, which is used during these assessments? 
Here's a detailed mapping of DC Pracbox against UEENEEE104A Solve problems in d.c. circuits. Click on the plus icon on the left to see the details of the subpoints.
How does the equipment compliance help me?
When conducting a compliance audit, more often than not, the biggest component is the assessments. The easiest way to be compliant on paper is to make theory assessments but in a competency based system practical assessments are by far the best way to assess a candidates competency. In electrotechnology, this means that you need to have invested in practical assessment equipment to replicate real world scenarios so that you can assess the candidates. Historically, this was done by buying all the components you needed and put them in a container and the container would sit on a shelf or a trolley. What a mess that makes!
Not to mention, losing components after each assessment or practical exercise, which means you are reinvesting in something you shouldn't be. At the end of the day, this may make you compliant, but at what cost?
Money – buy more equipment than necessary
Time spent looking for the right equipment and components when needed
Stress – losing components when needed means you can't assess completely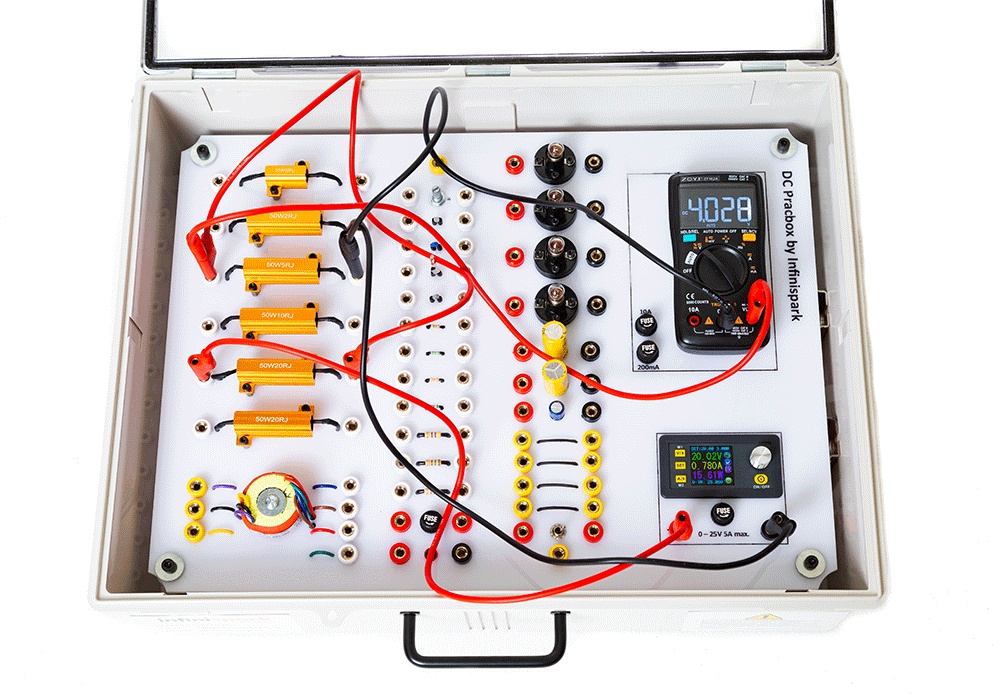 Our response to assessment and compliance stress
We went through the training package and put almost everything that's necessary in one enclosure. After conducting an audit, we found out that you could cover more than 80% of any of the DC circuits subjects in Certificate II and Certificate III Electrotechnology, not just in UEE11 but also in the upcoming training package. Quick overview of components in DC pracbox V4
25V 5A power supply with an intelligent controller
Multimeter without flat battery hasseles
Various fixed value resistors including power resistors and colour coded resistors
Variable resistors like thermistors, varistors, LDRs
Various loads like LEDs and Lamps Continuity and IR test components like nichrome wires and transformer Bipolar Capacitors
Time and Money well spent.
As you can see, by conducting an audit of your equipment, you can see how much of your assessments do your equipment cover and be confident that your candidates are being assessed holistically and practically. It is useful to actually see in black and white how much coverage you are receiving for your investment. More coverage means less expenses on other equipment and money well spent. Or as we call it, more bang for your buck!
If you would like to know more about DC pracboxes or any of our other equipment, please feel free to email us on info@infinispark.com.au
Thanks for reading.